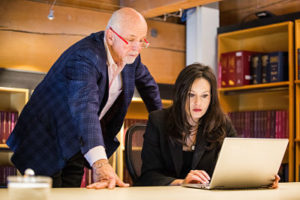 The founders of Richilano Shea LLC, John Richilano and Kevin Shea, grew up in the courtroom. Between them they have tried more than 100 civil and criminal cases to verdict, and have defended every type of controversy in which their clients' freedom, wealth, and good name are at stake.
While they share the same passion for their work, the founders came to the firm from different places– Kevin spent 25 years with two of the largest and most respected firms in the Rocky Mountain region; John spent nine years as a state and federal public defender, followed by 20 years in solo or small firm practice.  Combined, the two provide the best of both worlds:  big firm expertise with a personal touch.  We give our clients our undivided attention.
SOME RANKINGS & ACCOLADES
American College of Trial Lawyers
Chambers USA
The Firm, as well as John Richilano and Kevin Shea, are recognized by this highly regarded rating publication as leaders and top of market in the area of white collar criminal defense.
Best Lawyers in America
Again the Firm, Kevin Shea and John Richilano, have long been recognized as top tier in both commercial litigation and white collar criminal defense.
Best Lawyers Lawyer of the Year Awards
John Richilano has been awarded this designation in the area of White Collar Criminal Defense in both 2010 and 2017.
Colorado Super Lawyers
John Richilano and Kevin Shea have been recognized in litigation for many years.
Martindale-Hubbell
Kevin Shea and John Richilano have long been awarded this rating agency's top designation: AV/5 Stars/ Preeminent